Productivity and soundscaping
Workplace performance
Researchers at University of California, Berkley found that within the modern workspace, one distraction overshadows all others. Speech distraction was identified by workers as their number one pet peeve, from a survey of over 65,000 people in North America, Europe, Africa and Australia. Inability to focus is the bane of an open plan office. Humans are hardwired to listen for speech, which can interfere with cognitive tasks, such as reading. Another study identifies a steep decline in space per office worker, from 21 square meters in 2010 to 14 square meters in 2017. It's safe to say this "densification" plays a part in the growing distraction and reduced productivity within the working environment.  
Soundscaping evolution
Audio communications company, Plantronics, has made it their mission to create focused and distraction-free workspaces. Their latest European HQ in Hoofddorp is designed to showcase their "smarter working" philosophy, using a multi-sensory approach to create a more calming and productive office. They call their solution Habitat Soundscaping, as they apply intelligent acoustic technologies leveraging both sight and sounds from nature.
It's been well researched that images of nature are associated with improved mood and increased feelings of well-being. But what about sound? Over the last decade, the biophilic hypotethis has been investigated in relation to how natural sounds can affect productivity. In 2015, the Rensselaer Polytechnic Institute actually found productivity is positively impacted with the sound of natural water. Moreso than silence and white noise, which can increase stress and annoyance. 
Multi-sensory experiences
For the launch of Plantronics' new European office space, they asked INDG to be a part of creating virtual displays of serene landscapes integrated with natural sounds to deliver a rich, multi-sensory experience. For starters, we created digital water features for their entrance to greet visitors and guests. The open mesh waterfall creates cascading wave patterns, adding movement and energy to a static space.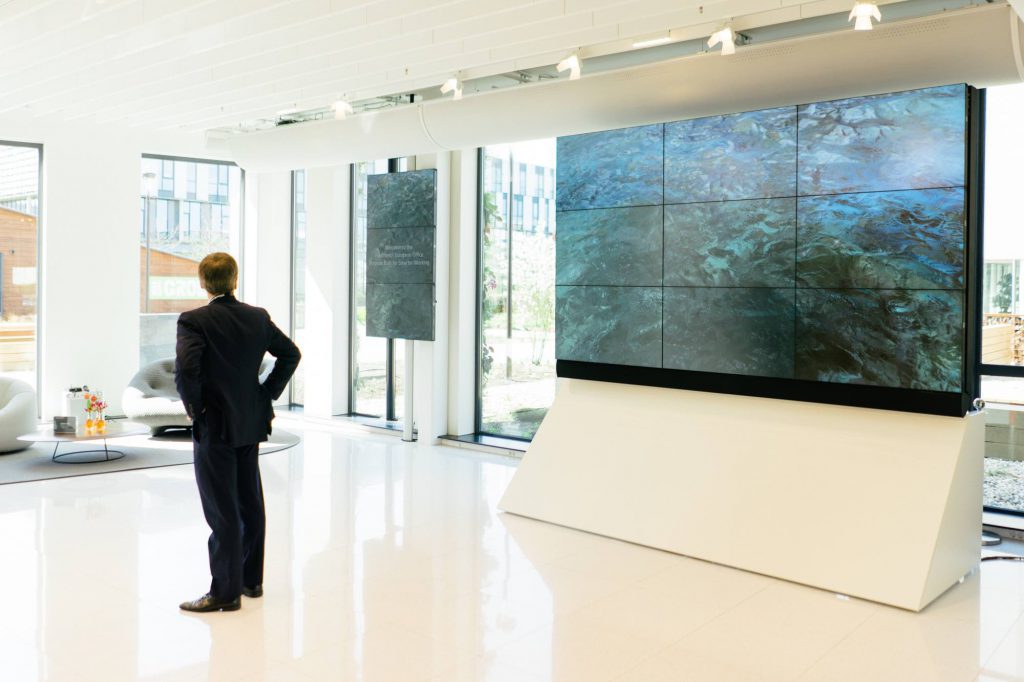 We also created a sound chamber video to be played across 3 screens, explaining the Soundscaping technology. Inside the chamber a peaceful snowscape scene plays, snowflakes slowly descend. Gradually the scene transitions to a creek, then to a bambling brook, to a river, until we arrive at an aerial shot of Amsterdam that then transitions into an office space. Here, the soundscaping is switched off and a loud office worker is telling a story about his weekend, the conversation starts to blend into the loud work environment. The message: "I think we'll keep the soundscaping".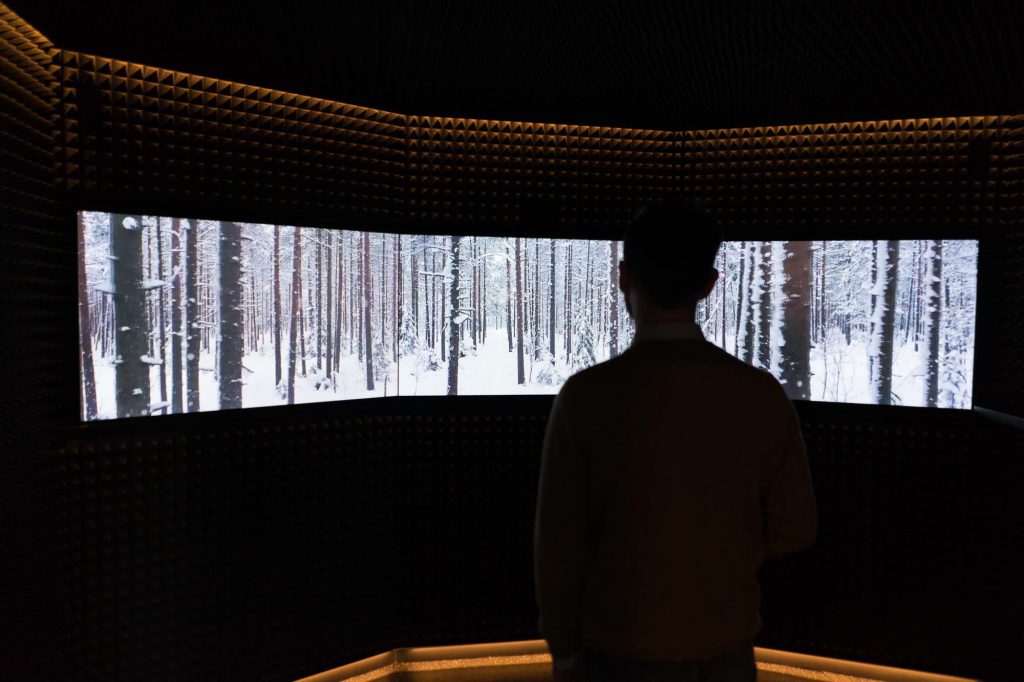 Another installation we worked on is the sound table, an interactive touch table that visualizes how sound travels throughout an office environment and how Plantronics technology can solve problems related to a complex and disruptive soundscape. When a user initiates via touch interaction, an aerial view of an open office space appears through the water, with people, desks and chairs. Users can tap different elements in the room to create a mosaic of colored ripples and sounds. We designed the office environment as a white architectural model, keeping it clean to focus attention on the visualization of sound, which is designed as line wave clusters that bounce around the office and interplay with one another. The surrounding lighting design and audio are interconnected with the sound table to deliver a multi-sensory experience upon touch. 
Leading by example
There's an increasing disconnect between our human needs and today's open office environments. Carefully designing the look and feel of a working space is crucial to enabling employees to perform their jobs effectively. By bringing the biophilic experience into the office, using sight and sound, Plantronics European Office is reducing distraction and bridging the gap between modern life's demands and our intrinsic human needs. With Plantronics' strength laying firmly in the audio, we provided our expertise for the visuals, transmitting the essence of the audio and technology through CGI.
Talk to us
For both strategic advice as well as on-the-ground implementation, work with the team that knows how to scale up the creation of visual content, from simple product images to fully interactive applications. Want more articles like these? You can sign up to our newsletter or follow us on Twitter @INDG