An Introduction to Digital Product Experiences
According to the IDC, 70% of consumers' purchases take place outside of retail stores. Thanks to the Internet, shoppers are more empowered than ever with instant access to detailed product information and reviews. How does this impact the strategy of brands to influence consumers decisions?
In this blog series we will share the fundamentals of creating successful digital product experiences. Then elaborate on who the digital consumer is, and what their decision-making journey entails. We will assess how digital product experiences should be seamlessly infused within each step of the consumer decision journey (CDJ) and explain why storytelling becomes more relevant than ever before.
What exactly is a digital product experience (DPX)?

A DPX includes all the components utilized during a customer's interaction with a product on any digital channel. Less than 10 years ago, digital product experiences were limited to static pictures of a product, which lacked depth and interactivity. Current technologies enable full product experiences such as virtually holding a product in your hand and interacting with it. Digital touchpoints include anything from a social media post, to a 360-degree product view, an interactive web page or a mobile app. Product stories such as the Philips' Shaver 9000 include multiple digital product experiences. For example, an enriched category page helps the consumer during the 'consider and evaluate' stage of their decision journey. The story continues with the product detail page providing in-depth information to convince consumers. Once the product is purchased the owner can get support from an interactive manual application to prolong product life, deepening brand loyalty.
Digital Product Experiences and The Consumer Decision Journey

In a recent study by Gapingvoid – a consultancy and visual communications company – 63% of consumers reported they may defect from brands due to irrelevant content. Successful DPXs guide the customer through the Customer Decision Journey with a story about the product and its unique features. This is empowered by relevant messaging and visualizations, especially tailored to the stage in which the consumer is engaged. This messaging can take any form, from a single product image to interactive applications. An effective digital product experience leads the consumer from the identification stage all the way to becoming a brand advocate.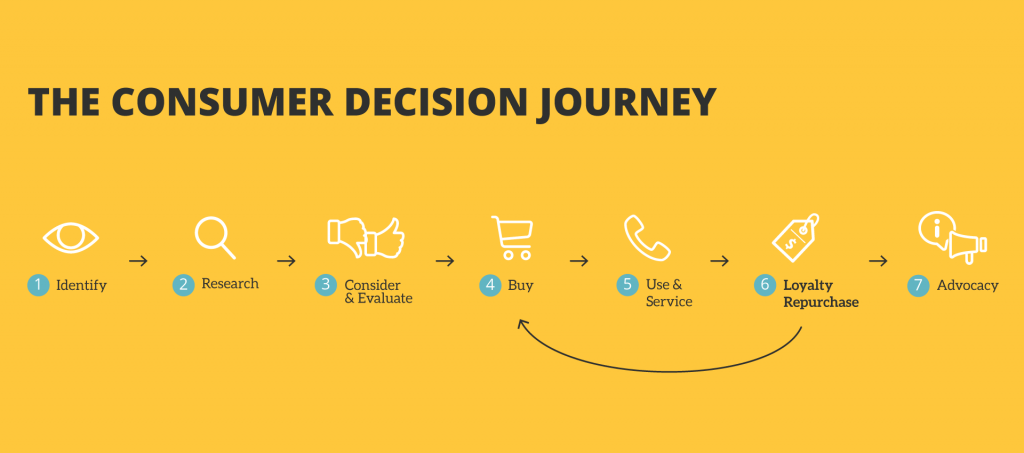 The McKinsey consumer decision journey portrays the steps which a consumer takes when deciding to make a purchase.
"Tell me, I'll forget. Show me, I'll remember. Involve me, I'll understand." –Benjamin Franklin

By demonstrating product features in a more engaging way, people tend to better understand the benefits of that product. This principle is a successful strategy for appealing to the "always-on" consumers and converting them into sales. Digitization allows brands to create truly convincing product experiences that are consistent across all touch-points.
Creating a sucessful DPX not only requires outstanding product visualizations but also strategic implementation and a mindfulness that the sum of a successful DPX is greater than its parts.
Stay tuned, as we continue this series by exploring the digital consumer.